It's almost Friday, Coaches. We hope you enjoy these three stories.
1. How dominance can become a hindrance for powerhouse football teams' non-district schedules (Dallas Morning News)
You hear about this in both high school and college. Powerhouse teams have a tough time scheduling out-of-conference games, particularly home games.
For powerhouse programs across Texas, the prospect of re-organizing districts this offseason is coming with a caveat: Coaches they'd previously agreed with on a match sometimes hesitate or renege, leaving teams —searching for compatible opponents long after most schedules are set.
Annual regular-season and playoff domination, then, becomes a hindrance, shrinking the pool of willing competitors for the elective-style matchups.
Highland Park and Allen have combined to win the Dallas area's last three state championships in the past three seasons. Duncanville has played in the past two Class 6A Div. I finals and has come one Hail Mary and perhaps one quarterback injury short of claiming both titles.
The recognition and accolades that accompany the runs garner local and national prestige for their programs. But it's no coincidence that the three most often have to look outside Texas — and the country — for willing opponents in the part of the schedule the UIL doesn't dictate.
Allen, winner of four state titles since 2012, has played an opponent outside the Dallas area each season since 2014. That list includes teams from Utah, Louisiana, Florida and South Carolina.

Highland Park faced Prepa Tech from Monterrey, Mexico, from 2010 to 2013 and Pulaski Academy (Ark.) in 2014 and 2015.
Duncanville hosted St. John's College (D.C) last season and Evangel Christian Academy (La.) in 2017, a piecemeal plan after a local coach backed out of a non-district agreement with Duncanville after the 2018-20 realignment reveal.
"I don't know why somebody [would say] 'Well, we don't want to play Allen' or whatever," Allen coach Terry Gambill said. "To me, I'm interested in playing really good people."
What is your philosophy when it comes to scheduling non-league games in terms of the strength of opponents? 
2. The Best Super Bowl LIV for X's and O's (ESPN)
ESPN's Bill Barnwell is always great with X's and O's, and this time, he breaks down the Super Bowl matchup before making a prediction.
He breaks down the play of the postseason so far from the first quarter of the NFC Championship Game. With the Niners facing a third-and-8 on the edge of field goal range, Packers defensive coordinator Mike Pettine dialed up an exotic front, with just one defender placing his hand on the ground. Prized free-agent addition Za'Darius Smith stood in the A-gap, while fellow new arrival Preston Smith lined up as a wide-nine end far outside left tackle Joe Staley. Pettine naturally hoped that the two Smiths would meet in the backfield for a drive-stalling sack of Jimmy Garoppolo.
Preston Smith (91) ended up in the backfield, but by the time he got there the ball — and any sense of Packers invincibility — was gone. Coach Kyle Shanahan had called a trap — the same trap you ran with your junior high team — on third-and-8. Preston Smith and Blake Martinez (50), both nominally playing defensive end, shot into the backfield. Linebacker Kyler Fackrell (51) followed suit after left tackle Staley (71) pushed him down, but both Smith and Fackrell were taken out of the play by pulling guard Mike Person (68). Staley climbed to the second level and sealed off Adrian Amos (31), Darnell Savage (26) took a poor angle to the ball carrier and Raheem Mostert (31) was off to one of the biggest games in playoff history. All that off a third-and-8 trap. Check it out, courtesy of NFL Next Gen Stats: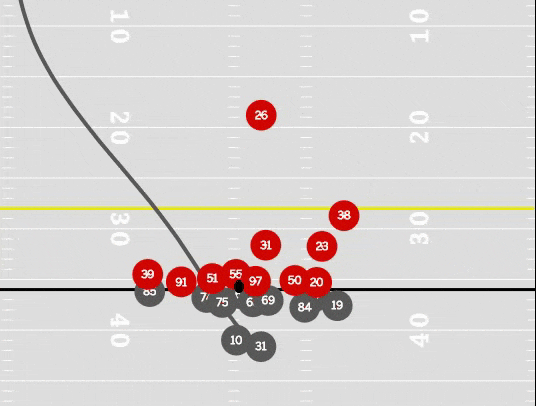 Here's another play Barnwell breaks down.
He thinks the game's biggest mismatch will be the 49ers' running attack vs. the Chiefs' run defense.
One thing the 49ers do well with both Juszczyk and Kittle is get them in motion just before the snap and create leverage on the defense before they can adjust. As Warren Sharp noted, the 49ers use motion in the running game more than anybody else in football, while the Chiefs are the NFL's worst run defense when teams use motion.
Here's an example of the 49ers playing off that, with Kittle motioning to the right. The defense adjusts, and then Juszczyk motions at the last second to the right like they're about to run outside zone in that direction … only for it to be an end around the other way. After taking his first step like he's going to block at the presumed point of attack, Juszczyk reverses field and even goes to cut-block Za'Darius Smith (55) on the opposite edge. With Smith distracted and desperately trying to find the football, Juszczyk sees that Smith isn't going to be involved in the play and bypasses him to head upfield. This isn't a huge play, but it's an example of how Shanahan uses Juszczyk to mess with defenders' heads:
What offensive or defensive unit will dictate the outcome of the Super Bowl?
3. The offseason training program for a three-time Colorado state champion team (Pikes Peak Newspapers)
The Palmer Ridge football team has won the last three Colorado Class 3A state championships with off-season training at the core of its success.
Several members of the team work with private trainers and coaches year-round to improve their skills for high school and beyond.
Three days a week, quarterback Luke McAllister, along with Bears' teammates Kaden Dudley and Anthony Costanzo, head to Ground Up Sports Performance in Colorado Springs to work on their footwork and speed training.
"My (40-yard dash) time before my combine (in San Antonio) was 5.2 (seconds)," said McAllister, who also does quarterback training one day a week at Jenkins Elite in Englewood. "I ran a 4.9 at the combine. All that training pays off."
The All-American Combine takes place in San Antonio in early January and is a showcase event for many of the most talented high school players in the nation. The invitation-only event is one of many high-level camps the Palmer Ridge players attend during the winter, spring and summer as they prepare for the rigors of the high school season.
"I've seen myself grow as a player and I've seen my on-field play become more dynamic," said Dudley, who has committed to the University of Colorado. "I've become more explosive by coming in here and doing footwork. Going through these drills and doing the little things will make my game a lot better."
How do you feel about players training with private trainers and attending combines in the offseason?
What's driving the conversation in your locker room? Email Managing Editor Dan Guttenplan or Tweet us @fnfcoaches. Don't forget to use that hashtag #FNFCoachesTalk