Welcome back, Coaches. We hope you enjoyed the Super Bowl weekend. Unfortunately, we won't have any high school, college or NFL games to talk about for seven months! We've got three stories for you.
1. Coach of School That's Closing Is Helping Players Find New Teams (Chicago Tribune)
Here's an interesting hypothetical. How would you interact with your players for the rest of the school year if you found out your school was closing for good in June?
One person who is facing this situation and is helping athletes find new schools is Ryan Pattison, the Guerin (Ill.) football and girls basketball coach. He was named the football coach in December and got a weight training program started for the underclassmen. He'll be Guerin's last football coach, though he won't take the field for a single game.
Though his players are still recovering from the shock of learning that Guerin is closing, he sees opportunity for them.
"Other schools are going to want them. I've told them that," Pattison said. "It's like being in the college transfer portal."
For now, Pattison is training 18 freshmen, sophomores and juniors on the Guerin football team. They will continue to lift weights and do conditioning drills, even though their next football season will be at different schools.
"No matter where we go, we're going to benefit," Emmanuel Diaz said. "We like football, and we're trying to get better."
How would you interact with your players for the rest of the school year if you found out your school was closing for good in June?
2. Super Bowl X's and O's: Andy Reid's masterpiece, and how the Chiefs came back and the 49ers blew it (ESPN)
We included ESPN columnist Bill Barnwell's breakdown of the X's and O's before the Super Bowl, so we're going to share his story breaking down the way the game played out.
Super Bowl LIV was decided by two third downs. The first was the absolute nadir of Kansas City's hopes, when ESPN estimates the Chiefs held just a 3.9% chance of winning their first title in 50 years. Facing a third-and-15 with 7:13 to go in the fourth quarter down 20-10, the Chiefs desperately needed a big play from Patrick Mahomes, who had thrown his second interception of the game on the prior drive. Punting the ball back to the 49ers might have let San Francisco bleed the clock and produce a game-killing touchdown.
Instead, Mahomes hit Tyreek Hill on a 44-yard bomb, as the Chiefs dialed up a play that they hit for a big gain on third-and-15 in last year's AFC Championship Game against the Patriots.
After scoring one touchdown on their first six drives, the Chiefs woke up and scored a touchdown on that drive and the following one. In the course of 12 offensive plays, they went from trailing 20-10 with a win expectancy of 3.9% to leading 24-20 with a win expectancy of 77.7%. After nearly collapsing, they became the first team in Super Bowl history to score 21 points in the fourth quarter and only needed half of the quarter to do it.
The other key third down came on the subsequent 49ers drive. It would be easy to say that the 49ers were shell-shocked after blowing their lead, but they quickly picked up 41 yards on three offensive plays to move the ball into Kansas City territory. On a third-and-10 with 1:40 to go, Jimmy Garoppolo tried to win the game. Kyle Shanahan dialed up what is known as a Mills concept, named after the early '90s Florida receiver who caught a series of touchdown passes as the deep post receiver under Steve Spurrier, who popularized the route combination in his offense.
It called for Kendrick Bourne to run a crossing route and Emmanuel Sanders to run a deep post. While Sanders appeared to be double-covered on routes breaking to either side at the sticks, Garoppolo saw that neither defender had any leverage to defend against the deep post. Some quarterbacks might have gone to the underneath read and tried to work to a seemingly open Bourne, but Garoppolo correctly saw that Sanders was going to come open and took his shot to win the game and threw before Sanders was even out of his break. The veteran wideout got a step and a half on the coverage, but Garoppolo missed the throw that would have defined his life by 2 yards.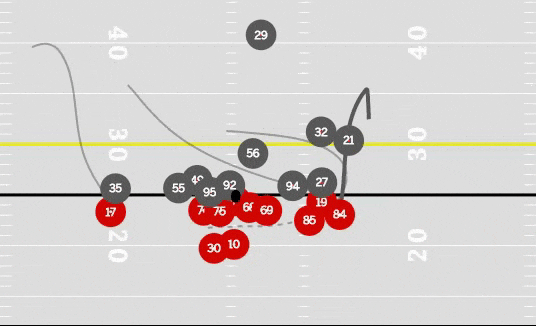 What play from the Super Bowl will you steal for next season?
3. How the quarterback position is evolving for top high school prospects (NBC Sports)
From professional to youth football, the quarterback position is evolving and as a direct result, the way by which high school quarterbacks are being evaluated and ultimately recruited is undergoing a metamorphosis as well.
For decades most major collegiate programs scoured the prep landscape looking for "prototypical" quarterbacks — those standing between 6-4-to-6-6, weighing 220-235 pounds, with big arms and just enough mobility to climb the pocket, if nothing else. It was a common belief that meeting these guidelines was a prerequisite to being successful at the position. To this day, quarterbacks who "look the part" are aptly labeled, "pro-style", while their more athletic and/or diminutive counterparts are labeled "dual-threat", a moniker that simultaneously signaled, 'less than' .
There is perhaps no greater example of the development of the position than Baltimore Ravens quarterback Lamar Jackson. Because his skill set was not prototypical, Jackson was merely a 3-star student-athlete and ranked 409th nationally in high school. After opting to attend Louisville, due in part because he would be allowed to play QB, Lamar grew into a two-time finalist and ultimately becoming the youngest player to win the Heisman trophy. Despite his success, many still doubted whether Jackson should continue to play QB at the highest level.
On February 19th, 2018, former NFL executive and talent evaluator Bill Polian suggested Jackson switch to wide receiver,
Nearly two years into his career and Jackson has silenced his critics. His non-traditional skill set has allowed him to turn his team into a championship contender and himself into an MVP candidate.
He's not the only one opening doors for young QB's who may not pass the "eye test", Patrick Mahomes also thrives off of his athleticism, while Drew Brees, Russell Wilson and Kyler Murray all stand less than 6-foot tall.
"Hopefully we can get rid of those labels moving forward [pro-style, dual-threat]," said Troth, "because, I love DeShaun Watson's explanation, 'I'm not a 'dual-threat', I'm not a 'drop back', I'm not a 'pocket', I'm a quarterback' and so that one word should encompass what the position requires.
Has the rise of dual-threat QBs at the NFL level impacted the way you assign players positions at the beginning of their high school careers?
What's driving the conversation in your locker room? Email Managing Editor Dan Guttenplan or Tweet us @fnfcoaches. Don't forget to use that hashtag #FNFCoachesTalk